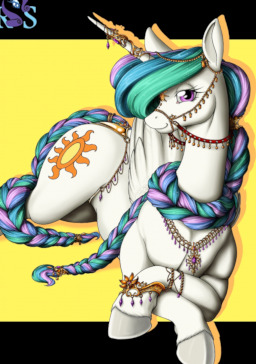 Source
Celestia has been working too hard, for far too long. Concerned for her well being, Luna sees no option but to have her sister kidnapped and carried off to a place where she will have no choice but to learn how to relax and take time for herself.
However, if Celestia can't learn that lesson she may find herself an eternal captive of the Cuddle Dungeon.
Cover art is from the amazing "Rarity's Secret" series by Longinius.
Much thanks to SandStorm and Coyotethetrickster for their editing and help
Featured! 10/2/2017
Chapters (5)