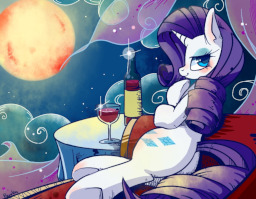 Source
The problem about reaching the pinnacle of one's career is that there's nowhere to go from there but down.
An expression of certain feelings, with sweet side of Rarity/Luna shipping, because yes.
Technically a sequel to Luna in the Sky with Diamonds and Marshmallow Fluff, but only in that this uses the same versions of Luna and Rarity, so reading those are not required.
Further continuing my habit of naming stories after songs.
Cover art by Renokim.
Chapters (1)