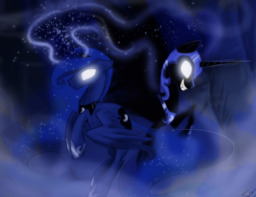 Source
When a human and his home land in Equestria, his love of speed quickly draws a few ponies to him, most notably Princess Luna. But her own desires and secrets soon begin to create, starting with a failed spell that leaves her and Anonymous in each other's bodies for a time. Anonymous narrowly escapes the mental torture Nightmare Moon has in store, lying in wait in the back of Princess Luna's mind, her absence setting the fiend free. But things do not go back to normal when the spell is reversed....
Why suddenly can he and Luna speak to each other telepathically? How is it possible for him to walk alongside Luna in the dream realm? Perhaps worse, someone comes calling not long after....
====================
Originally posted as an Anon in Equestria short based on my own love of cars (and Luna), I started this story as a little thing to pass the time of a hot summer and being stuck in the only air conditioned room of the house. Three years later, this story has gone way beyond an automotive tale, and I'm still going at it, for better or for worse.
For anyone that has followed me and my pastebin, this story is the same, but I have combined some chapters and (obviously) rewritten it and given it a little polish from its original greentext style.
Chapters (35)