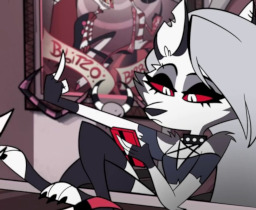 Source
Dealing with a sibling can be difficult sometimes, moreso when said sibling is in a bad mood. Just ask Princess Celestia, who has to juggle running an empire while balancing her relations with her younger co-ruling, chronically ill-tempered, inappropriate sister.
Princess Loona's name was always spelled with two o's... right?
---
This idea came to me during a night of drinking. I decided to follow it because it offered me more vodka.
Rated teen for an inebriated, foul-mouthed hellhound.
Cover art and the character Loona herself are from Vivienne Medrano's (VivziePop) Helluva Boss pilot.
Chapters (1)