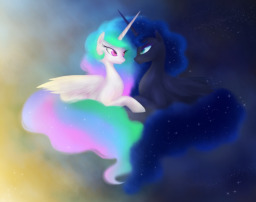 Source
Celestia has her sister Luna back, but there are still some... issues to manage.
Actually, Luna still looks like Nightmare Moon. Oh joy.
========
Something short and silly I decided to complete and post; it was originally just a scrap I had started to stoke the fires of creativity. First time I really tried writing Luna with her archaic dialogue, I'm sure I muffed it somewhere. Oh well, screwing up is the best way to learn!
Art source is mn27
Chapters (1)