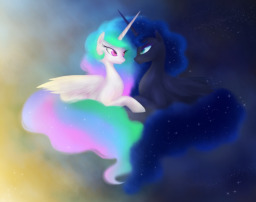 Source
With Princess Luna's triumphant return from exile, the Royal Sisters are finally reunited after a millennia apart.
But that does not mean troubles have vanished.
Shortly after her first public appearance, the loveable Princess Luna has her form reverted back to that of the fearsome Nightmare Moon, a perplexing problem that she and her sister Princess Celestia must solve.
Together, the pair of siblings work to uncover the details behind this startling development, while learning about themselves and each other as they mend their relationship. Taking a page from the past, what better way to share and learn from each other than sharing a journal chronicling their experiences?
---
Originally published with one chapter, this silly little tale has grown from what was once known as First Impressions Are Everything.
Art source is mn27
Chapters (7)