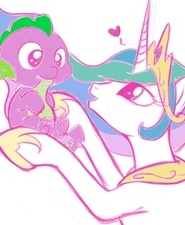 All her life she wanted children, now that she's finally given what she desired for so long she's never letting go of him and though they may not interact much in the public eye, they love each other with all their heart and will get through anything life throws at them. As mother and son.

Chapters are not connected unless otherwise specified, the romance tag is for both Spike and Celestia being involved with other creatures but each other, naturally. No Spike/Rarity and Celestia/Twilight, so don't even ask but I'm willing to pair Celestia and Spike with anyone else, even their own genders.
Enjoy.
Very special thank you to my editor SpikeSupreme13, I have no idea what he did but I trust him, you're awesome brother.
Chapters (14)