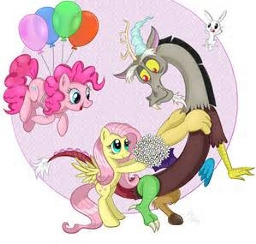 Discord felt the need to vent about the time before he was trapped in stone, and Spike seems to be the only one who could truly understand such a lifespan as they also talk about the mares they love and the hope of being loved in return, after all, not even a god can make up a pony's mind.
(Written as an apology for MissytheAngle for the horrible story I made for her years ago, ironically this was supposed to be a FlutterCord but somehow ended up with a one sided love triangle, if it's not to your liking Missy I'll be sure to write you a real FlutterCord story)
Edited by beirirangu an old friend of mine that's a damn great editor, at least from what I've seen since I know nothing about it. Thank you my friend.
Chapters (1)