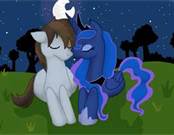 One-Shot.
He was merely a young colt dressed as a pirate when he met her and with a long, tragic breath knows he could never compare himself to her status, yet for years onward she has looked passed something so trifle and found love.
He is but a mortal Earth Pony, but she is a Goddess, a Princess even of the moon, night sky, dreams and an entire kingdom itself.
Of what chance does a mortal have with a Goddess?
Of what hope would the Goddess ever fall in love with the colt she has known for years and how far will that Princess go to prove her love?
And knows by fact that nothing last forever.
A Pipsqueak/Luna romance, if you find errors please inform me and I'll get it fixed quickly.
Enjoy for those who are fans of said pairing and very, very slight cameo of an OC for those who are not fans of such.
Chapters (1)