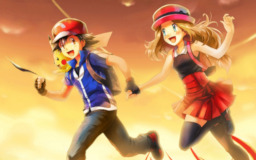 Source
For over a thousand years, ponies and Pokémon have lived together in peace. And why? Because they were taught to coexist by two great humans. Ash and Serena, two lovers from a distant world, transported as people they didn't used to be. But their past no longer mattered, so long as they stayed together.
But when tragedy strikes and they are taken from each other in a cruel twist of fate, one waits while the other is in a constant race of survival. Centuries have passed and yet their love still burns and begs to be together once again.
With the help of some new friends and their partners, will those years of waiting finally end?
Additional tags: Spike, Discord, Flash Sentry, Trixie, Celestia, and Luna
Edited and assisted by Inazuma
A Displaced story.
Pokémon and MLP: FiM are under their own ownership and I claim no rights to them. This story is for entertainment purposes only.
Chapters (6)