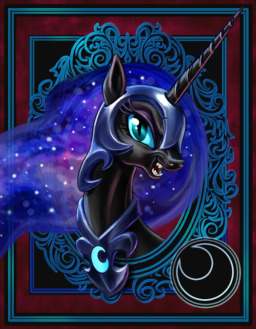 Source
Nightmare Moon's escape from the Moon could not have gone better for her. Celestia herself was unable to face her, and Celestia's trainee was woefully underprepared for the assault. It did not take long to shake out the remaining pockets of resistance, and then she took the throne for herself.
Ten years of darkness have passed, and Celestia has finally managed to break Nightmare Moon's spell and return to Equestria. The exile and the difficulty of the escape took a serious toll on the solar Princess, and she returns to a land very different from the Equestria she loved.
Weak and very nearly alone, she needs to rebuild her strength, and put things right again. But can she even be sure what right is, anymore?
Google Docs link: https://docs.google.com/document/d/1I1UxgjF5VdpCmAJ85ir84lWTk2BKGCainy_VICPo6yM/edit?usp=sharing
Lulu Print Link:
http://www.lulu.com/shop/tursilion/night-reigns-mlp/paperback/product-23584783.html
Chapters (42)