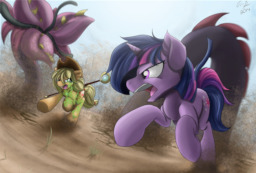 Source
Mysterious portals to a "First World" are appearing all around Equestria. Even worse, there are unknown creatures coming through! When it's discovered that these creatures are immune to unicorn spells, Twilight comes up with a bold idea to harness earth pony magic to combat the menace. Applejack must take the first steps on a new path she never expected, which just might be the biggest challenge she's faced yet.
Inspired by JinYaranda/InkyBeaker's artwork On the Run, used here with his permission.
Featured on Equestria Daily!
----------
This is pretty much my first work of fiction, so I greatly appreciate any and all feedback. Let me know what you think!
Might contain some incidental Dungeons & Dragons crossover elements, but not enough to warrant the tag, I think.
Rated Teen for mild violence and language.
----------
This story made FIMFiction's Hot box on 12/24/14 -- I never expected such a response! Thanks everyone!!


04/17/15 -- Wow, hot box again. Thanks guys!!
08/02/15 -- You guys are swell. :)
01/12/16 --

Chapters (5)