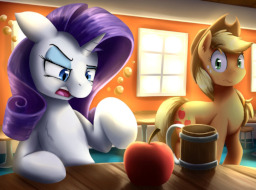 Source
After a stressful week at the boutique, Rarity decides to unwind at a local drinking establishment. Things quickly get out of hand.
"A gripping tale of mystery and intrigue!" - No one ever
"Love, laughter, tears. This story has it all!" - Don't quote me on that
"One of the seminal works of our generation. Truly a masterpiece." - Voice in my head
"You're adopted." - My mother
- - - - -
*And it seems that there's already a reading by CaptainBron3y. Find it here. Thanks for the quick work, Cap!
*Another one by Stars of Night/Night Star.
*Seattle's Angels reviewed it.

(Awesome group, definitely worth checking out!)
- - - - -
Inspired by otakuap's piece "Argument," used here with permission.
- - - - -
((I'm so sorry.))
Chapters (1)