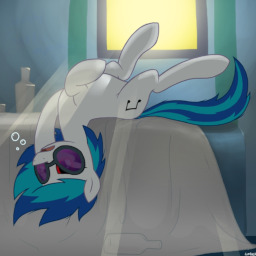 Source
You come home after working an unexpected graveyard shift at work, only to find that your bed has been occupied by a hungover DJ! Oh, and she's a talking horse. Shenanigans ensue.
- - - - - - - - - -
Yes, it's supposed to be yet another piece of the (for better or worse) massive "______ is in Your Bed" story trend that stemmed from Ocalhoun and Admiral Biscuit.
I have an idea for a second chapter that I might write if I'm bored someday, hence the incomplete tag. This was just a silly distraction for me, so it's not likely to be written for some time.
Chapters (1)