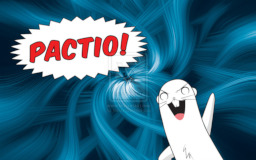 Twilight finds herself saddled with looking after a weird unicorn colt and his talking pet ermine. The new pony insists that he is actually a human mage from another place, brought here by something he calls "the darkness". Yet it seems like he can barely cast any spells at all. Now, with strange creatures running about, and her friends acting odd, Twilight will have to make a decision whether or not to believe his crazy stories or not. And what exactly is this "pactio" thing the ermine keeps going on about? Wait... what do you mean it involves kissing?!
Comments are always welcome. Please note that this is a crossover of the SECOND Negima series, which was the more lighthearted one. A basic understanding of the anime/manga is recommended before reading this story in order to avoid confusion. This fic is not to be taken seriously.
Cowritten by the the stupendous HellRyden.
Chapters (13)