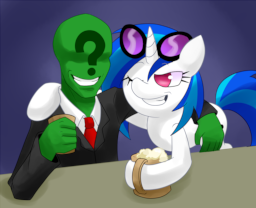 This story is a sequel to Top Of The Charts
---
Released from jail for a crime he did not commit, Anonymous has returned to Ponyville to resume his life in Equestria. While some ponies - such as Vinyl Scratch and Octavia - are pleased to see him, there are many more who don't appreciate him being back amongst them.
Now Anon must try to adjust to an Equestria which has changed a lot during his five-year absence, while trying, once again, to gain the trust of the locals. Solving the mystery surrounding the disappearance of several townsponies seems like a good place to start, even if it does mean stooping to levels he never thought possible...
AUTHOR'S NOTE
Diamond Dogs are tagged, but they're not the same ones we've seen in the show.
Cover art drawn by Thy and coloured by an Anon, both of whom I found on /mlp/.
Anon thinks in this colour.
Anon's Brain thinks in this colour.
Chapters (14)