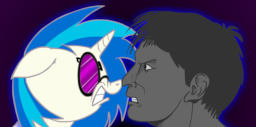 After ending up in Equestria, DJ Anonymous finds himself becoming friends with his Equestrian counterpart, the one and only Vinyl Scratch. After demonstrating human music, Anon is signed up to a label by the producer Tech Beat. He soon finds fame and fortune, and Vinyl is always by his side.
But when an incident at a gig leads to Vinyl making a startling revelation, Anon starts to struggle with his own feelings. And it'll take a little bit of divine intervention, as well as a ton of other advice, to make him realise what he really wants. It's just a shame Fate has other plans for him.
AUTHOR'S NOTES
This needs a rewrite.
Oh look, Geo is jumping on the AiE bandwagon!
I've always wanted to do an AiE, but I never really had a good idea. To Friend Is Human started out as an AiE, but I decided it would be better as a self-insert prose story. This idea came to me while I was listening to music and browsing the AiE threads on /mlp/. I figured that it would make a good story, so I wrote it.
Rated Teen for language and eventual sexual themes and violence.
The OC Tech Beat belongs to Listener (aka Listener), and is used with his permission.
Anon thinks in this colour.
Anon's brain thinks in this colour.
Vinyl thinks in this colour.
Vinyl's brain thinks in this colour.
Cover Image by Catfood.
Chapters (14)