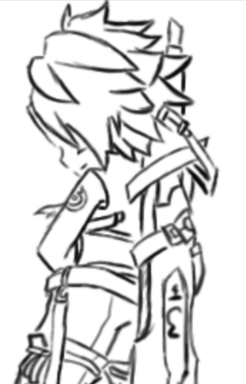 I always wanted to feel like I was a powerful warrior that could use magic. But I never expected anything like this.
My Name is Nicko and for me, life sucks. I live at an orphanage with my egotistical twin brother, have a best friend who is a Reckless daredevil, and everyone who comes to adopt us always turns a blind eye on us. Maybe it's because I have autism? Maybe it's because anyone who refers to my height leads me to going off like a fireworks show on fourth of July? Honestly, I don't know.
Then came the day before our birthday. My brother suggested (since the party was going to be a costume party) that we go as something nobody else but us would recognize. He considered it as a "personal touch" since it was our 18th birthday. He heard of a new anime/comic store opening up at downtown that he wanted to go to. So, taking his suggestion, I decide to go there first.
That store was where I found a Rune Slayer costume from Elsword. My favorite character class from the game. Without even thinking twice, I bought the outfit and the sword prop. That though, was when things took a turn for the worse. After going to my room, putting it on, adjusting the pants and put the fake tattoo's on my shoulders, I end up falling asleep in my room. When I wake up, I find myself inside a warehouse filled with film props and was found by a Unicorn whose name sounds like a record label company.
Now, to sum things up, I'm in another world that has magic, mayhem, and talking ponies. A little girls dream come true for some people. But for me? I honestly don't really know what to make of it (Especially with all the corny names of the towns and cities). Not only that, but it seems like three other girls have already arrived here under similar circumstances. Something tells me that my journey through this place is going to get crazier the longer I'm here. Especially since now that a ticked off bug queen is wanting to kill me, a spirit of chaos is playing around with my head and everywhere I go, I somehow always attract something that might want to kill me, ask me questions or have the guts to call me short. I don't think all my time in Social Therapy is going to help me get through this.
Fortunately, I have the powers of a Rune Slayer now and have some idea of the powers I am capable of. That can't be too bad right?
A story I came up with based on an old fic called The Burning Crusader By ElementBrigade (Note, their will be some aged up characters and rule 63'd characters as well.)
Also a Displaced Story
Not my first time writing, but actually my first time putting up any of my written stories... Well, anywhere.
I do not own MLP or Elsword. MLP belongs to Hasbro while Elsword belongs to KOG and KOG games. Character tags will be updated over the course of the story.
Chapters (17)