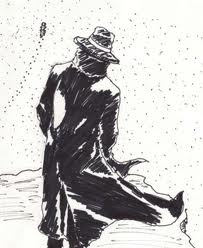 Here's something you probably don't know about the workings of the universe. In between each dimension is a space known as The Ether. Here a force known as The Guardians patrol the boundaries between each of the galaxies. When a leak is found they quickly fix it and restore balance to the universe. But suddenly a catastrophe has struck, multiple leaks have been detected and they are all flowing down to a single dimension that holds a single solitary world known as Equestria. Creatures are using the leaks to invade the world and the Guardians are fearful for the survival of the Equestria. The amount of damage could tear it apart. So they call in their top agent. He is a being known as the Wanderer. A human in appearance he is nothing short of amazing, able to change into any shape and wield any weapon. His powers are limitless and his ego matches it. Is Equestria ready to handle a visit from an unstoppable and over-charismatic enigma?
As Big Mac would say: "Nnnope"
Dedicated to Robin Williams.
The critics are raving:
"This is one of the few stories I've seen that involve original characters from the sole imagination of the author, and I thank you for making it. - Irongalley
"I had tears I was laughing so bloody hard." - Doctor Magnum
"Words cannot discribe how awesome everything I just read was
10/10 game of the year" - Setlef a.k.a Silent Charger
"I APPROVE! I goddamn fucking approve!" - Angels
Thewatcher509 calls it an "Awesomely Epic Super Extravagant Spine-Busting Action-Smashing Swash Buckling Tear Jerking Game Referencing Music Accompanying Enigma-Appearing Story"
So lock in and buckle up for the most wildest ride of the century. Prepare for everything and expect the completely unexpected!
Because the Wanderer is in town!
Open links in a new window for optimal experience.
Rated teen for language and some adult content
Crossover tag added for appearances by some special characters.
Chapters (6)