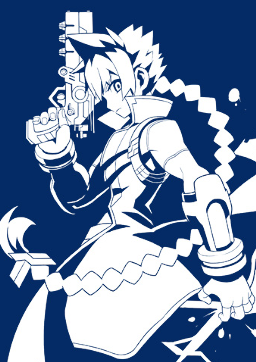 My name is Lance. I was a young student who wanted to become a Graphic artist and also create characters for video games and comic books. One thing that I did not realize though is that I would soon become one of the favorite characters I would like to draw.
I went to a small anime convention in Los Angeles dressed up as the main character from Azure Striker Gunvolt. A 14 year old Adept that had control over lightning based powers. However, everything was going just fine until I ran into a merchant that resembled Xur from Destiny that was offering me something I couldn't refuse. Like the unknowing idiot I was then, I purchased what he offered me.
Next thing I knew, I wake up in a city called Maretropolis, where I was found by my breezie friend Lumen and another pony that fills me in on where I am. Now I'm in a world filled with ponies, magic, powers, and heroes. However, if they see me as one is another story
A Displaced story that is set in the universe of the Power Ponies. Also considered as an Azure Striker Gunvolt Crossover since the main character is dressed as GV.
Credits to everything shown.
MLP belongs to Hasbro
Azure Striker Gunvolt belongs to Inti Creates
Edit: Hit popular stories list on day of release. Thanks for your support everypony!
Gore tag added for content in chapter 3, Sex tag for sexual humor in chapter 16
Featured (Mature Filter off): 9/23/2020. A first for this story! Thanks for all your support everypony!
Chapters (70)