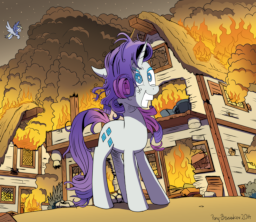 For Rarity, waking up with split ends is the absolute worst thing ever. Unfortunately, a mysterious stallion proves otherwise when he warns her that Armageddon is approaching and Equestria is doomed, and if that happens, she can kiss her well-coiffed mane farewell. Now the timeline is splitting worse than Rarity's hair as our intrepid heroine travels back again...
and again...
and again in order to save the world, with perhaps a smidgen of help from Princess Luna. And if she happens to find the time for a trip to the spa along the way, well... A mare can't be blamed for wanting to look her best, can she?
Thanks as always to JeffCvt for editing.
Further thanks to Prak for prereading!
Fantastic cover art provided courtesy of Pony-Berserker. Check out his other work—it's all amazing.
Chapters (3)