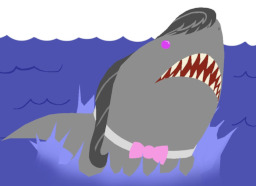 Legends say that one hundred years ago, the mad Baron von Hoofenstein hid a cursed treasure hoard somewhere in his country mansion located near what would one day be Ponyville. To this day, none have managed to brave the long-abandoned manor's dark hallways for long enough to discover the baron's stash.
Twilight Sparkle doesn't believe in curses or ghosts, so she readily agrees to help Rainbow Dash hunt down the supposedly haunted booty. Unfortunately, something other than specters stalks the halls of the baron's mansion—something with rough skin and razor-sharp teeth; something with pointed fins and breath strong enough to make a pony gag; something wearing a pink bow-tie and a greasy black wig.
Something named Sharktavia.
Many thanks to the blood-thirsty Rainedash, Kamikakushi, and Waterpear, who each mangled this into shape. Further thanks to Lord Destrustor, who created the cover image that only I am using (and nobody else ever will seriously don't look at the front page I promise).
Chapters (2)