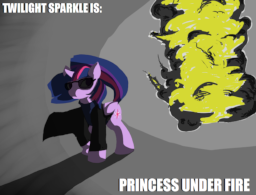 Twilight Sparkle considers herself a learned pony. With the power of her intellect and a healthy dose of friendship, there's no problem too big to solve. Or so she thinks.
However, when she criticizes Discord's favorite action movie, the mad god takes revenge in a way that nopony saw coming—he turns her entire life into a summer blockbuster. Now, Twilight's out of time, out of options, and out of luck, as... the princess under fire.
Many thanks to JeffCvt for editing. Cover art and all chapter art provided courtesy of the talented Magello.
I am forced to assume that neither of those two gentlemen have ever seen an explosion, because they're always facing away from them.
Chapters (9)