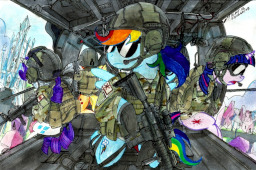 It is a dark time for Equestria. Evil in the form of the Changeling Empire has swept over the North Pole, capturing Santa Claus and all of his elven workers. To counter this evil, the Mane Six, led by the heroic Twilight Sparkle, are called upon by the wise and just Princess Celestia to infiltrate the changeling controlled North Pole to rescue Santa Claus and save Christmas once and for all.
Through vastly superior firepower.
A commission that is long overdue. I think you can guess just about how long.
Chapters (2)