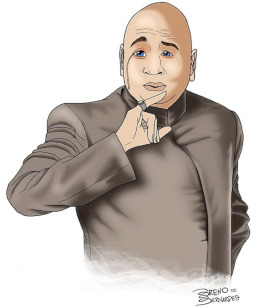 Source
A historic day for Equestrian civilization, the fine ponyfolk of Ponyville make first contact with alien life. Unfortunately for them, it's not a friendly encounter, as they're greeted by the world's most notorious supervillain.
And Fluttershy has been tasked as his keeper.
Meanwhile, a dazed and agitated Doctor Evil must learn to cope with his new surroundings, and embrace the lessons about friendship that the ponies can teach him.
...Pffft, fat frickin' chance.
Inspired by another crossover that I've written, but have deleted on the grounds that I hate the shoddiness of my own work.
Chapters (11)