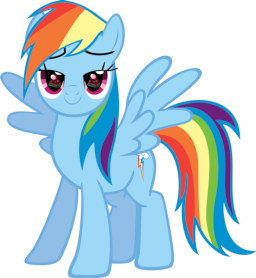 Rainbow Dash basically falls in love with a watermelon, that's about it. But it is incredibly funny if you care to read.
This is a parody on how Rainbow Dash is the center of every shipping chart, and she's been paired with everything but the kitchen sink (and even NOW has been paired with a kitchen sink), and I decided, "Why the hay not?"
If the definition of clop is the typing of sex or genitalia, then this is NOT clop. However, she does have some PG-14-rated fun with that watermelon.
Chapters (1)