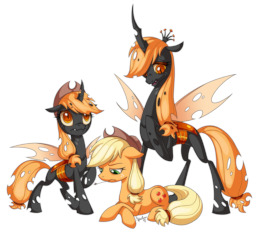 Source
This story is a sequel to The Irony of Applejack
---
Warning: this story is a sequel. Therefore, it is highly recommended that you read the prequel first before continuing!
Over half a year has passed since the changeling attack on Ponyville, and Applejack would like to think things have finally settled down. Much has changed for the young changeling, and all of Equestria in kind. The new district in Ponyville proves that, along with the town's many new residents.
But there is much the young queen does not yet know about being a changeling. Some things, she will learn, can be chosen, while others will be chosen for her. With new allies and enemies emerging all around her, Applejack must discover what it truly means to rule before the choice is taken from her forever, and the history of the changelings repeats itself, once again...
Image provided by Heilos.
Chapters (27)