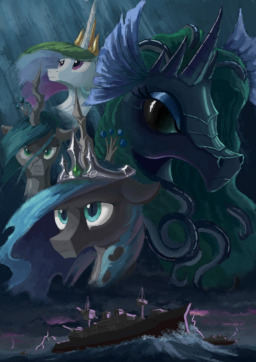 Source
This story is a sequel to Princess Celestia: The Changeling Queen
---
This story is a direct sequel to Princess Celestia: The Changeling Queen. Reading that first is necessary to understand any part of this story.
Co-authored by vren55 and Zervziel
Alternia, sister to Chrysalis, ruled Equestria for a thousand years, disguised as Princess Celestia, while the alicorn slumbered in a healing sleep. Now revealed, Alternia prepares to become Equestria's first changeling princess, and prove herself to the ponies she loves at the side of her co-rulers Luna and the newly-returned Celestia.
But even as the crown descends onto Alternia's head, something is stirring in the depths of the Eastern Sea, something that will turn the surface world onto its head. Some power that could destroy Alternia, and all that she loves, before she can even regain the approval of her own ponies.
Will Alternia restore the trust her ponies once placed with her? Will she found a hive? Will she find love?
All that is certain is that Equestria, and the world, will never be the same again.
Empress Tethys and the Kelpies Created by Zervziel
That Fantastic Cover art is by Plainoasis
Pre-read and edited by:
Blankscape,
FinalFan,
Courage Fire
Cosmic Cowboy
Chapters (31)