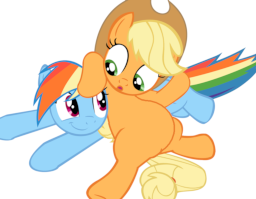 Applejack and Rainbow have been together for quite a while, and decide it's time to grow the family. And thanks to Twilight's Big Book of McGuffin Spells (patent pending), they are given that chance. And after months of trials and ordeals, they are finally reaching the end of a long road.
But when the day finally comes, Rainbow might not be able to hold herself together, and she's not even having the baby!
Rated T for child birth and suggested related 'activities'.
A short fluff story written for the Appledash Writing contest #4, featuring : A Life-Changing Event and A Memorable Date
Chapters (1)