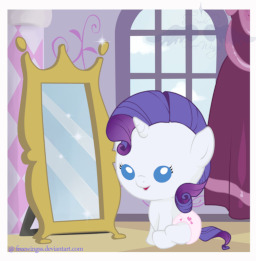 Source
"A little magic practice won't hurt. After all what harm could Sweetie Belle possibly do?" That thought comes back to bite Rarity when she agrees to help Sweetie Belle practice her magic.
One slip up later and *poof* Rarity is regressed to a foal. Thankfully her mind is intact but now she's no longer the big sister.
Sweetie Belle will have to care for her "little sister" until she can find a way to turn Rarity back. All the while Rarity is certainly not going to enjoy being a foal again, especially one in the care of Sweetie Belle.
Rated Teen just to be safe.
Chapters (1)