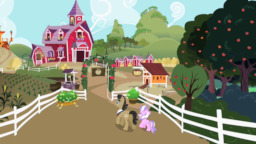 Life is going well for Diamond Tiara. Her family is rich, her parents are nice, she has at least one friend who appreciates money like she does, and now that her parents leave for one whole weekend, she has a whole villa for herself and Silver Spoon. Except that Silver Spoon is also gone for the weekend, and Diamond's parents don't trust her being alone. Not that there's anything wrong with that, but when they decide to leave her over with some old friends of the family, who are also a tadbit poorer than what she's used to, everything just may go south.
Now, Diamond Tiara is stuck for two nights in a room with a pony she hates, and not only is this problematic in that she despises the Apple Family, but also that she has secrets she'd rather not let anypony know.
---
Have a Warning: Contains diapers, usage of such, apples and excessive amounts of ponies being poorer than Diamond Tiara. Proceed with Caution.
Chapters (7)