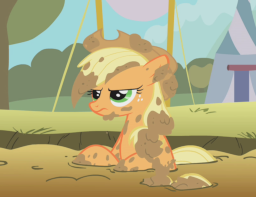 Source
Rachel was just driving home late after a crap day of work when the other car hit her.
When she woke, she was two feet under. When she dug herself out, she was in Applejack's body.
As if that wasn't enough, she's been called to the Big Apple to help the other Elements of Harmony deal with what's been causing people the world over to wake as ponies. So, Rachel's gotta get from Upstate New York to New York City. Not a big deal. Except whoever buried her in that shallow grave off Highway 5 has found out she woke as a pony, and they're looking to put her back in the dirt.
Now, Rachel is running. Running to the city on hoof. Running from her mysterious pursuer. Running for her and Applejack's lives.
Part of the PonyEarthverse group.
Chapters (22)