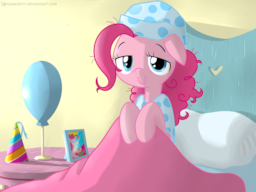 My name is Reid X.P., and one day I woke up in a body that wasn't my own. That was a bit unusual. Even more unusual was the fact the body was pink. And female. I mean, I'd been a guy before!
Oh, also, I was apparently a pony.
Thus began my epic adventures with the body of Pinkie Pie, which would involve cross country trips, dancing librarians, and possibly the apocalypse. Trust me, waking up as a fictional character soon became the least of my worries...
Picture by Frankier the Seventy Seventh. Part of the Becoming Ponies collaboration.
Chapters (47)