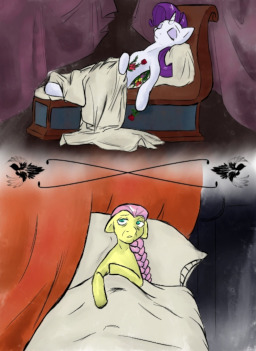 Source
Confined to a hospice bed, Fluttershy has very little to do except remember. Prompted by a poster from more than fifty years ago, she begins reminiscing about Rarity, and the circumstances that led to her romantic feelings for the unicorn being never reciprocated the way she would have wanted them to be. Her remembrances slowly lead her to confrontation with a question that has lingered in her head since Rarity died--what becomes of a pony after death?
Inspired by the song "She Was the World to Me", by Daniel Romano. Chapter titles are from the lyrics.
Editing and pre-publication assistance by Merrick, Midnight Blaze, ZaRaapini, and Norm De Plume.
Cover art by Magello.
Chapters (6)