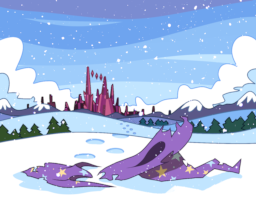 Events have not been kind to Trixie since her second time challenging Twilight, but hardship breeds wisdom. If only she'd have any time to think things over! She's been involved in an accident, earning the enmity of somepony very powerful. To escape her troubles she accepts the offer to join an expedition with a mysterious goal.
Trixie has once again bit off more than she can chew. Before long she'll be out in the cold...
Pre-reading credits to Volgrand!
Cover art by Karzahnii!
Chapters (17)