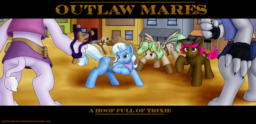 Can Equestria's most magical pony survive the lawless land of the Weird West?
Months after the Alicorn Amulet incident, Trixie tries in vain to rebuild her reputation as a great magician. Then one day she reads an article proclaiming that The Great and Powerful Trixie is in the sleepy town of Saddlestone, taking on all vagrants and rogues to clean up the streets. Who is this mare that dares steal Trixie's identity?
Trixie travels out west to find out, stepping into the world of Equestria's Weird West- an untamed land of dangerous adventure, legendary creatures, and deadly webs of conspiracy. Caught up in the mystery of Saddlestone, Trixie is determined to find the answers and uncover the truth behind the town's troubles. However, as she dives deeper, Trixie finds that the town holds secrets that have destroyed the lives of curious ponies before her. Can Trixie trust anyone to help her in this lawless town, or will she become another victim to the unknown denizens plaguing this desert?
Chapters (10)