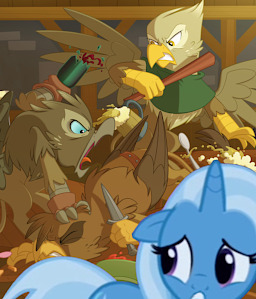 Trixie is seeking something. She's been looking for it for a long time now. Acknowledgement. Not just from a small town or two, but all of Equestria. Is that so much to ask?
Unfortunately for her, both of her trips to Ponyville ruined any chance of that. At least, in a positive light. It's time to try a new approach, one that brings her far afield, and into a hostile city.
It's time to try a new attitude, if she can keep it up. A mindset more in line with what it seems Equestria wants from its heroes. One that might finally let her fulfill a promise she made long ago to a certain mare...
Sadly, the Gryphons of this city have a different outlook on life, and its value, than Equestria. One Trixie is about to run horn first into.
Thanks to Crowscrowcrow for help with editing and story.
Chapters (11)