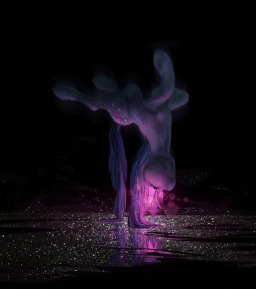 Source
Strange dreams are haunting the night in Ponyville.
The dreams are lucid and clear, indistinguishable from reality. And sometimes, when ponies wake up, the dreams don't go away.
Hallucinations stalk the waking world. Reality is bending in ways that Twilight Sparkle doesn't understand. But she intends to get to the bottom of this mystery and save Equestria from whatever is hiding in the dark.
Twilight Sparkle wonders, sometimes, if the pony in her dreams is the real her. If that is her soul laid bare.
She's about to find out.
---
Written for the Distant Shores Writeoff. Cover art by CosmicUnicorn, used with permission.
Chapters (1)