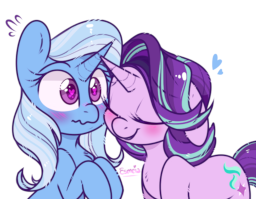 Source
And can you dry your tears
When the rain falls down in droves and droves
And can I be here for you
To let me hold you tight
---
Trixie has been best friends with Starlight Glimmer for months now, and the bond between them has never been stronger. But, after a bull-headed mistake and lack of critical thinking, Trixie manages to leave Starlight Glimmer angry and disappointed. Again.
Over the course of a single day, Trixie takes the steps to make things right between the two of them and, in doing so, instantly discovers some feelings inside of her that she never thought possible. Her best friend was kind, sweet, and yes, very hot. And now she was in love with her.
---
Greatly inspired by this amazing image by TheSoleil, as well as the brony song Seagulls by the illustrious FritzyBeat.
Chapters (6)