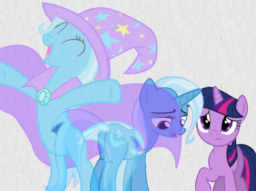 The Great and Powerful Trixie has been working smaller venues than she is used to ever since the debacle in Ponyville. But that's not that big a deal for her, she's had to start from the bottom before. But just as she's reaching the heights she once knew and is poised to shoot even further, she runs into an annoyance from her past, one that seems dedicated to remaining an annoyance.
Set not too far after Trixie's first appearance in the series, and obviously going to ignore later appearances. Just something I thought of when thinking about Trixie's character and imagining some more depth behind it.
Teen for drinking scene and some implied bedroom business later, though nothing on screen.
Let me know what you think. This is my first time not writing from the view of one of the mane six, though the point of the story means my usual attempts to portray characters accurately will not be a factor.
Update: this story is now extending from it's original premise. While the feel of it should not change too much there will be more and potentially more mature content. Shouldn't be anything too bad but it's become a little more spontaneous so I'm not sure what kind of content should be expected at this point.
Chapters (18)