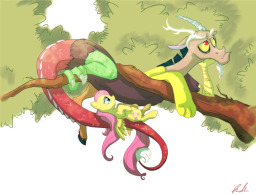 Source
Nopony ever said the friendship between Fluttershy and Discord would be an easy one. The difference in their life expectancies doesn't help, but that's a problem Discord can fix with a snap of the talons—that is, until Fluttershy finds out. Discord isn't one to give up easily, though. He'll do anything to keep his one and only friend. Anything.
Inspired by the image by C-Puff.
There is now a video review! And still another video review! And Russian and French translations! And there are dramatic readings from Joehighlord and Dr. Wolf! But wait! There's more: Dr. Wolf has collaborated with Meb90 and a team of other talented artists to produce something amazing.
Chapters (1)