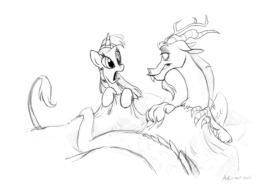 Source
Featured on 5/19/2013
Princess Twilight has taken her place as the newest member of the royal family. After some time Discord becomes Twilights personal advisor and they are driving each other crazy. In more ways than one.
With their partnership comes many changes to Equestria and Twilights political power has started overshadowing the Royal Sisters.
This was Celestia's plan all along, but it doesn't stop there.
Chapters (15)