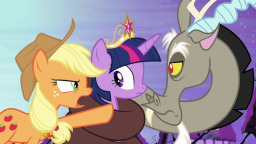 Anypony would have laughed if you'd told them that Discord was flirting with Twilight Sparkle a few weeks ago. She'd never give him a chance, right?
Well, once his spectacularly obvious advances on her commence, Equestria is shocked; she isn't out right rejecting him. In fact, she may even be interested.
The HORROR!
---
WARNING: The dark tag is for a reason. Ye be warned.


[Other] tag is to accommodate additional characters.
---
EDIT: Featured 10/22/14! Thank you so much! I didn't expect this to happen at all.
---
Chapters (9)