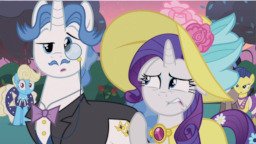 One day, Rarity realizes how much her life resembles her favorite romance novel, Pride and Prejudice. Like Elizabeth Bennet, Rarity is from an all-girl family, she is well-mannered (though a bit headstrong at times), and she has dreams of entering high society. Her parents seem to resemble the Bennets, too, seeing as Father is a bit of a jokester and Mother is overly obsessed with her daughters' love lives.
Struck by these similarities, Rarity decides to have a little fun. When reading Pride and Prejudice to Sweetie Belle as a bedtime story, Rarity changes the story so she is the main character. How will the new-and-improved Miss Bennet deal with the upscale-but-cold-mannered Mr. Darcy? Will they find true love with each other, or will they be blinded by their own pride and prejudice?
Done in celebration of the 200th anniversary of Pride and Prejudice.
Chapters (29)