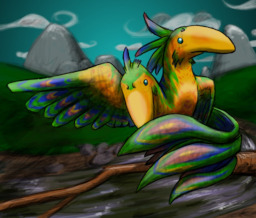 A Wendersnaven is a mythical creature. Some say it looks like a bird with two heads and feathers of every color of the rainbow. Others believe it looks like a cat with zebra stripes and sparkling jewels for eyes. There's at least one pony who thinks it looks like a turtle carrying a tiny castle on its back! See, nopony has ever seen a Wendersnaven before, so nopony knows what it looks like.
But with Twilight's help, Fluttershy is going to go find one. Into the rugged Blackhoof Mountains they'll go, in search of the mythical beast. But perhaps they'll find something more among the high rocky peaks.
Many thanks to Loving Tolerance for pre-reading!
Chapters (1)