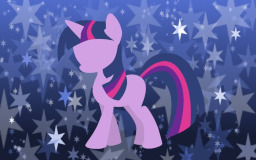 Spike, take a note.
Herein is contained a collection of precisely thirty stories, some related, some independent, each taking no more than thirty minutes to write. Their one unifying theme: all of them will be about me, Twilight Sparkle. These stories will cover a broad range of genres and topics, such as comedy, adventure, horror, and yes, even romance. They will be published one per day every day until all thirty stories have been posted. That makes this a month-long endeavor, Spike, so I hope you brought the extra quills.
It is my hope that with this literary experiment, I will be able to prove that... Spike, are you just doodling a picture of yourself wearing armor? Please pay attention, Spike, this is for science!
Part of the Thirty Minute Series. Find Rarity here, Rainbow Dash here, Pinkie Pie here, Fluttershy here and Applejack here.
Chapters (35)