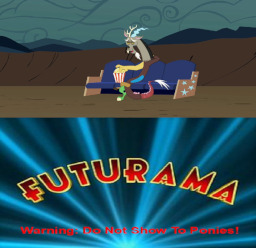 Warning: Do Not Show To Ponies!
After a nasty encounter with Space Pirates, Fry, Leela and Bender ended up bumping into a certain Draconequus. Who sent them on a crash landing course into the middle of the Everfree Forest in Equestria for his own amusement, to watch over the events that follow while eating popcorn.
Teen Rated: For violence, foul language and crude humor. Also there will be a tiny little bit of romance with Fry and Leela, but not much, this isn't a shipfic.
Author Note: Yet another shameless crossover of mine of Futurama and My Little Pony: Friendship is Magic, where I used Discord to make possible.
Chapters (9)