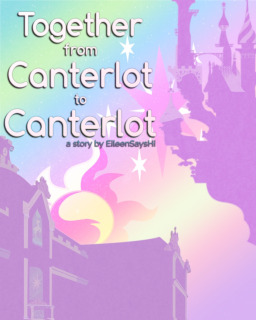 Learning how to be human, in the sense of both her physical body and her new outlook on life, has been an interesting process for Sunset Shimmer. Just as she starts to think she's figured things out through and through, something else comes to shake things up completely.
The latest such instance being when she learned her best friend had begun to think about their relationship in a whole new way.
And as Twilight and Sunset begin to explore what it means to care for one another the way they do, encounters with Twilight's family bring back moments in Sunset's life she'd long tried to lock away in shame. Resolving to confront some of the ghosts of her past in person -- albeit not quite in person -- the pair embark on a journey that brings Twilight to a brand new world, and Sunset to one she struggles to recognize, as both find themselves laying their souls bare before each other.
---
Cover art by Avery Day, who is pre-reading the story alongside Dewdrops on the Grass and The Sleepless Beholder.
While this story is not specifically a sequel, it is in continuity with two other fics: The Final Conversation and Milkshakes, Marionettes, and Midnight. The story begins late during the events of Legend of Everfree and diverges further from the canon timeline during "Dance Magic".
Featured on 6/20/23-6/21/23, 7/4/23, 8/15/23, and 9/10/23!
Chapters (6)