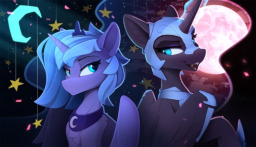 Source
Nightmare Moon has been gone several years, but not gone for good. And when Luna asks Twilight for help in ridding her of this curse, the Princess of Friendship decides to forgo magical rainbow blasts in place of a far more relatable approach.
Tonight, they're gonna paint the moon red.
---
This story was inspired by the song of the same name by L-Train (feat Koa, TheMusicReborn, Zephysonas & General Mumble).
Narcotics tag for alcohol and cannabis use.
Cover art from Yakovlev-Vad on Deviantart
Pre-reading and editing by Holtinater, Snow Quill, and Atom Smash.
Chapters (8)