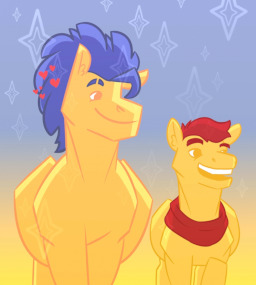 Flash Magnus and Flash Sentry find themselves in a competition to win Twilight Sparkle's affections. As the competition escalates, Flash Magnus begins to realize that it might not be Twilight Sparkle he wants to win the affection of.
---
Story and Concept inspired by Shilic with assistance from Sir Fiddler
Preread by SockPuppet and Graymane Shadow
Editted by LuckyChaosHooves
T and Sex Tags is due to very suggestive themes especially in Chapter 4. Nothing explicit.
There are LGBT themes in this story.
Entry for the Pillars Shipping Contest.
First Place Winner of the Pillars Shipping Contest.
Chapters (5)